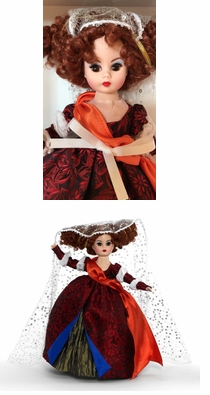 Madame Alexander Storyland Collection - Duchess of Wonderland"

"Duchess Of Wonderland" features a brown-eyed, fully articulated Cissette with red lips and red nails. Her wonderful, wild red hair is styled to resemble a reticulated headdress and is topped with a white veil sprinkled with gold sequins and edged with white grosgrain picot . Her gown has a red and black brocade bodice, over-skirt and sleeves and is trimmed at the waist with red and gold ribbon. The skirt is lined with royal blue satin and white organdy trims the sleeves. A pumpkin orange satin sash is draped diagonally across the bodice and hangs down the side of her skirt. A crinkled, olive green taffeta underskirt adds a dramatic color contrast. Her royal outfit also includes lace-trimmed white taffeta petticoat with matching pantaloons; red and black striped stockings; black knee-high, lace-up high heeled boots with red laces. The Alexander Doll Company packed her with pink tissue around her neckline and plastic covering her forearms and hands as extra protection until she'll be removed from box for display. NRFB

In stock.



---
PLEASE READ OUR "TERMS AND FAQ" (FREQUENTLY ASKED QUESTIONS) BEFORE ORDERING.

Copyright: All content of this site, such as text, creative descriptions, technology, html code, buttons and images are the property of Twodaydreamers, Inc. and protected by international and national copyright laws.